A long distance move brings with it countless hours of preparation and logistics that must be considered. If a move down the block appears to be a difficult task, a cross country move can seem impossible. You may find yourself scouring the Internet in search of the best way to move cross country or for best long distance movers. In the end, you may be finding more questions than answers as a one size fits all answer may be hard to find, with countless sites pointing you in the direction of the best long distance movers or the best ways to move cross country on your own.
One thing you do not have to search for further is the best long distance moving company as the answer is right here. Chicago Movers, an AMSA Certified Pro-Mover, has been providing services as a long distance mover for many years with stellar results. Our services which range from a free move estimate to delivery tracking, are guaranteed to reduce your stress, eliminate many risks whether to yourself or your belongings.
With the best local moving help at your disposal, a local move does not have to be a hassle. Though a local move may not seem impossible, seeking out the assistance of your local moving services can help lift the burden on you, as well as your family. There is no need to seek an extra pair of hands, rain or shine, Chicago Movers rates itself among the best local moving companies.
Swift and professional services put your moving fears at ease. As a company that has been local to Chicago for many years we practically feel like family all the while holding all the certifications. As the best local moving companies, our relocation experts will walk you through the process from providing a free quote to tips, loading, unloading, or extra storage should it be needed. We are there to walk with you through this exciting time.
Moving overseas means uprooting your whole life and the beginning of a new journey. An international move can pose organizational hurdles such as a possible language or customs barriers. There is no need to worry about all of the procedures, it is best to find an international mover to assist in the process. The best international mover will be there throughout your relocation process, handling all of the fine details, allowing you to sit back and enjoy the ride.
As one of the top rated international moving companies, Chicago Movers holds the appropriate certifications to ease you on your journey. Part of the international relocation services offers a single point of contact that will be there for you like a family member and advocate for you throughout the process. Years of past experience have provided us with the greatest network of best overseas movers to help you not only pack, but unpack at your destination.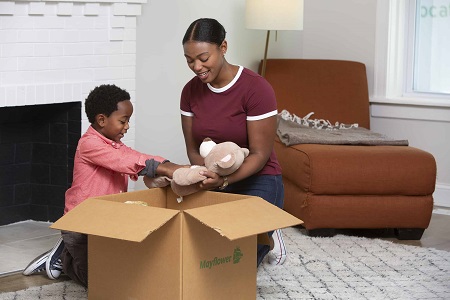 Even if you are moving only one bedroom, one office space, either yourself or a family member, going through the motion of a small move can be wearisome as it still requires the same amount of planning to ensure that nothing is lost or damaged in the process. The services of small mover can help solve some of the unique challenges that can present themselves throughout a move.
Your search for the best small moving company can end with Chicago Movers. As a best moving company, Chicago Movers has been in the area for many years and presents itself with a great track record, all the while making you feel like family. The services for small moves cover every aspect of a move from a personal coordinator, loading, unloading, protection of your belongings, and even furniture placement to ensure that you get the best.
Why Choose Hollander?
Over 130 Years of Experience
Certified Pro-Movers
"Service First" Attitude
Highly Rated Service
Near Perfect Delivery Record
Local, Long Distance, and International
State of the Art Tracking
Free and Accurate Move Estimate